The Work Environment and Performance Office (WEPO) and the Southwestern Region of the USDA Forest Service formally partnered with the Society for Range Management (SRM), the Southwest Indian Polytechnic Institute (SIPI), the Mescalero Apache Tribe, and Animo Partnership in Natural Resources to offer a "Natural Resources Discovery Camp" to thirty-three (33) American Indian students. The camp took place June 10-14 in Mescalero, New Mexico. Participating students from SIPI, Mescalero High School, and Tularosa High School were introduced to career paths through experiential activities with agency and tribal staff members. Students also engaged in problem-solving activities that helped them learn how they can apply science to the study of natural resources. Students were selected based on criterion developed by SRM, SIPI, and the USDA Forest Service, including enrollment in natural resources related academic programs at the postsecondary level, as well as high school students with an expressed interest in studying and working in the field of natural resources. "I was so impressed with the caliber of students and their level of engagement," said Jennifer Hickman, Forest Soil Scientist with the Lincoln National Forest. Hickman, a registered member of the Navajo Nation and whose father is Mississippi Choctaw remarked, "As a Native professional, it is endearing to see young Native students interested in pursuing natural resources careers."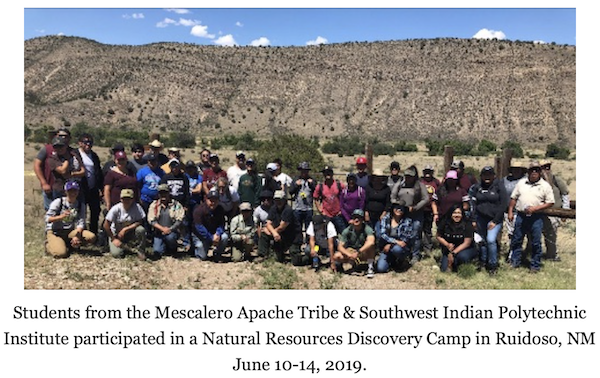 WEPO Diversity, Equity, and Inclusion Branch personnel, along with subject matter experts from the Lincoln National Forest, the Southwestern Regional Office, and partners from the Bureau of Land Management (BLM), the Natural Resources Conservation Service (NRCS), and the Mescalero Tribal Fish Hatchery facilitated workshops and interactive sessions to review requirements for exploring opportunities and gaining employment in the public service sector. Federal and Tribal employees assisted in hands-on curriculum designed to enhance student awareness in career paths related to range management, forestry, fire ecology, wildlife ecology, fisheries, recreation, and soil science through presentations and field activities. "I really learned a lot from the professionals that came to talk to us from the federal agencies," said Letisha Mailboy, a recent SIPI graduate and a member of the Cañoncito Band of Navajos in To'Hajiille, NM. Ms. Mailboy will be attending New Mexico Highlands University in the fall to pursue a degree in Geology. "I particularly appreciated how we were encouraged and challenged to think about how we can use what we learned to improve our own communities."
During the week-long camp, post-secondary institution partners from SIPI provided instruction in how to apply geospatial science to natural resource studies that helped students develop problem-solving skills. Shane Evans, a senior at Tularosa High School and member of the Mescalero Apache Tribe, stated, "Learning about geographic information systems was really helpful: pinpointing maps, taking pictures, collecting data. I actually want to be in natural resources and it was good to get to work out in the field and learn about so many options." In addition to the field activities, "Tips for Jobseekers" workshops were conducted to familiarize students with careers in the USDA Forest Service, how to apply for federal positions on USAJobs, Pathways Program and third-party internships, and interviewing skills.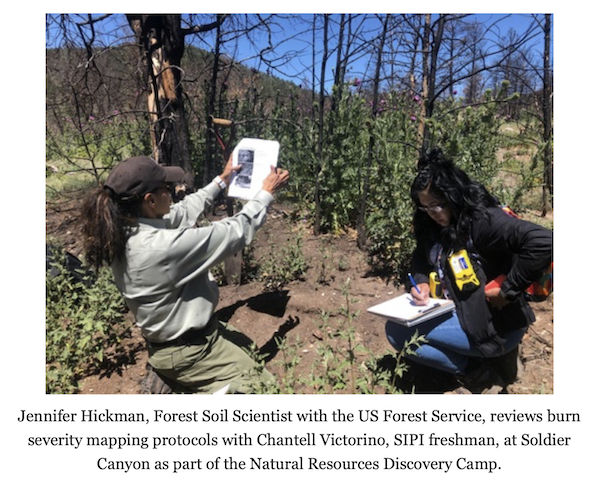 The Natural Resources Discovery Camp was in direct alignment with Forest Service core values, affecting meaningful connection of ordinary Americans, particularly underrepresented minorities, to the land, to the Forest Service, and to efforts aimed at conserving our natural resources. Forest Service employees' dedication to service was on full display for the camp participants and this initiative enhanced efforts to create awareness of and appreciation for Forest Service programs and activities. As in all work-related matters, recognition of the interdependence between the Forest Service and the people and communities served was truly evident through productive and engaging discussions with representatives of the Mescalero Apache Tribe and the diverse students from various indigenous backgrounds who attend SIPI.
The Natural Resources Discovery Camp allowed agency representatives to work in collaboration with communities and partners, including a postsecondary institution (SIPI), local high schools (Mescalero High School and Tularosa High School), Tribal leaders, and professional organizations (Society for Range Management and Animo Partnership in Natural Resources). Respect for diversity was demonstrated in both the design and execution of this project, including a deep respect for the people and communities that were engaged, and the cultures, perspectives, ideas, and experiences they embody and bring to the table. Access to resources and experiences that promote economic, ecological, and social vitality were embedded as stated objectives of the Natural Resources Discovery Camp, with a strong emphasis on how the knowledge and skills that students gained by virtue of their participation could be used in solving problems in their own communities.
"I was so pleased as to how well this year's Discovery Camp came together," said Arthur (Butch) Blazer, President of the Mescalero Apache Tribe and former USDA Deputy Undersecretary for Natural Resources and Environment. "I want to thank all involved for creating such a meaningful and lasting experience for our tribal students that were in attendance. I truly hope that this is the first of many more camps to come."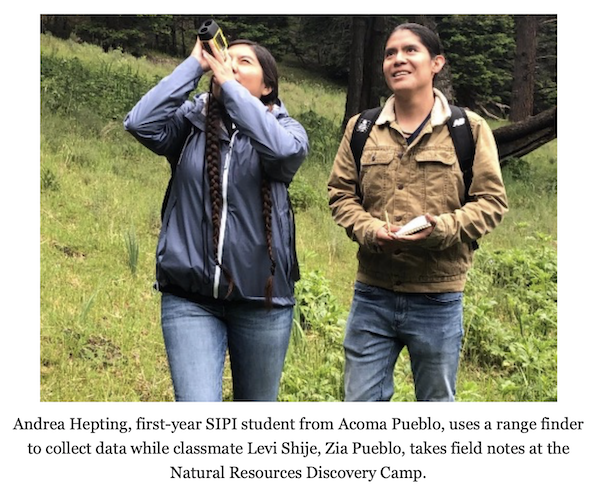 Click Here to see more photos from the Discovery Camp 2019 – Mescalero-SIPI-USFS.
For information or interest in other Native American related projects, Click Here.
Submitted by Diana Doan-Crider
SRM Native American Rangeland Advisory Committee (NARAC)