The inaugural Range Practicum brought lifelong learners from around the West to develop hands-on land and livestock skills at the National Western Complex in Denver on February 20. Ranchers, range managers, scientists, conservationists, and students tried their hand at low-stress livestock handling, horse and mule packing, prescribed burning, soil texturing, and pesticide sprayer calibration. Participants observed a wild horse demonstration and state-of-the-art reclamation equipment. The event, the first of its kind, was part of the 2020 Society for Range Management Annual Meeting, Technical Training and Trade Show.
"Our dedicated team spent almost two years in preparation, and to see the results unfold before our eyes with 200 plus engaged range professionals from students to producers to land managers gaining take-home, on-the-ground knowledge made the effort more than worthwhile," said Practicum co-chair Randy Reichert, of T&R Ranch LLC in Colorado. "I firmly believe we have created a new, valuable tool for fulfilling the SRM mission of equipping range professionals with the knowledge and skills to utilize and preserve the that vast resource: the American rangelands."
"The hands-on portion of the Range Practicum allowed participants a chance to really engage with the presenters," said Practicum Co-Chair Thad Berrett, a rangeland management specialist on the Bighorn National Forest and President of the Wyoming Section. "Attendees lined up for a chance to tie a manty and load it onto a live mule or to step into the Bud Box and put in place the skills of low-stress livestock handling they just learned from Whit Hibbard."
"To successfully implement a range management plan, we need manageable cattle that we can easily gather, drive and settle anywhere we want as a herd, that will stay where we put them, and that don't hang in the lowlands and grub out the riparian areas," said Hibbard, a fourth-generation rancher, and editor of the Stockmanship Journal. The hands-on session followed the fourth Stockmanship Symposium, a series in which the SRM brought together leading practitioners to teach the method and explore applications of low-stress herding, including improving livestock performance and grazing distribution, and preventing predation.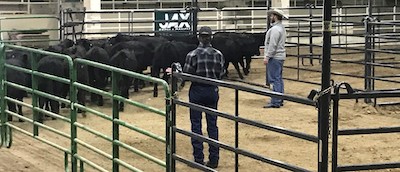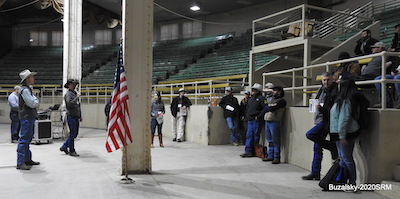 The horse and mule packing was a clear favorite of participants, who became familiar with stock, equipment and tack, and essential knots. The Shoshone National Forest range staff taught how to make and balance loads with both panniers and manties—the large pieces of canvas that packers use to wrap their cargo, and which also become tents and bedrolls. "It was a great opportunity to gain knowledge and hands-on skills in field and backcountry tasks related to rangeland management," said instructor Jason Brengle, a rangeland management specialist. "Many of these traditional skills such as packing stock are slowly being lost."
The wild horse demonstration featured humane methods for getting feral horses from the range to training and adoption. Sean Kelly and Megan Print from the Carson National Forest demonstrated their bait mare wild horse trap design and how its doughnut shape works for loading horses after they are caught. The team from the Mantle Ranch Adoption and Training Facility in Wyoming spent the rest of the day demonstrating initial training methods. They began with an untouched horse, demonstrating the first steps in gaining trust, and respect, while showing the development of a solid bond and foundation with the horse. Steve Leonard of the BLM Wild Horse and Burro Program said that one of the mustangs was adopted.
In addition to livestock, participants also learned about the land, including soils and range monitoring. The soils training gave attendees an opportunity to look at the different soil horizons and to compare soil cores from several similar but different ecological sites. The discussion led by soil scientist Andy Steinert of the Natural Resources Conservation Service focused on water movement below the soil surface, soil structure, and soil texture. Attendees tested their own soil texturing skills.
Across the hall, Emily Kachergis and others from the BLM National Operations Center taught participants about range monitoring, including how terrestrial core indicator data are used to understand status and trend of BLM lands in a diversity of land management scenarios.
In the prescribed fire workshop with Great Plains Fire Science Exchange, attendees learned about benefits and challenges of prescribed fire, fire research in short grass prairie, equipment and crew for burning, as well as ranchers sharing burning techniques for private land. Attendees then ignited heading and backing fires using straw for fuel.
"Several students said it was the most valuable day of the SRM meeting for them and that they hope the event continues into future years as they are already looking forward to it at next year's SRM meeting," said Berrett. The annual meeting and training will be in Boise, Idaho in 2021 and Albuquerque, New Mexico in 2022.

By: Matt Barnes, SRM 2020 Range Practicum Co-Chair and Past President, Colorado Section