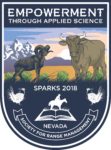 The Society for Range Management's 71st Annual Meeting, Technical Training and Trade Show will be held Jan. 28 to Feb. 2, 2018 at the Nugget Hotel in Sparks, Nevada.
The theme for the 2018 conference is Empowerment through Applied Science. Ryan Shane, Conservation Specialist, Nevada Division of Forestry, and Mark Freese, Habitat Biologist, Nevada Department of Wildlife are the conference co-chairs.
According to Shane, there are three main groups or roles of professionals involved in the science and art of range management: the scientist, the manager, and the practitioner. "Our goal is to bring together ranchers, land managers, and scientists so we all understand the benefits of science for sustained resource management," said Shane. "Each group has a vital role in the process of discovery, decision, and implementation of range management actions on the ground to solve challenges."
"We have about 60 volunteers from various disciplines already working on planning the conference," added Freese. "Potential topics include sagebrush community ecology and restoration, cooperative holistic and resilient management systems, riparian rehabilitation including the use of beaver, grazing and allotment management plans, sage-grouse habitat management and RMP Amendments, ecological site descriptions and state and transition models, geospatial and remote sensing tools and technologies, woody species encroachment management, grass banking, feral and wild horse management, and wildfire rehabilitation including seeding challenges and constraints, to name a few."
We encourage conference symposia, forums, workshops, posters, and papers that incorporate applied science and conform to the conference theme, Empowerment through Applied Science. We are specifically requesting presentations that reference a current problem for which a solution is being sought and how the results can be realistically translated into actions on the ground to solve the problem.
Abstracts for contributed papers and posters will be due no later than September 22, 2017. Watch for more information in future RangeFlashes and Annual Meeting-specific notices. Questions regarding the conference program may be addressed to Program Chair Sherm Swanson (sswanson@cabnr.unr.edu).
The SRM 2018 meeting website is currently being developed so stay tuned for links and more information!