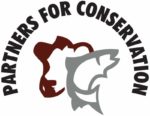 Partners for Conservation is currently accepting proposals to host Private Lands Partners Day in 2018 and 2019.
Private Lands Partners Day has grown from an initial meeting of around 30 people to the Nation's premier gathering of landowners and partners committed to sustaining working landscapes through public-private partnerships. The meeting has attracted 200 people each of the last two years.
Even as we are very excited and deeply engaged in planning for our 10th annual event in Bangor, Maine (October 3-5, 2017, more details soon) we are soliciting proposals from potential host sites in 2018 and 2019. If your local partnership is interested, please see the Request for Proposal.
Proposals will be accepted through June 1, 2017. Please contact me if you have questions or concerns.
Thanks for all you do for conservation!
Sincerely,
Steve Jester, Executive Director
www.partnersforconservation.org