The Kansas Section of the SRM conducts and supports activities each year that reach out to both youth and adults regarding rangeland management.  In 2019 the Kansas Section supported the Kansas Envirothon.  The Kansas Envirothon is an outdoor, environmental high school competition where students learn and are tested on a variety of topics.  In 2019 the topics included aquatics/ecology, forestry, soils/land use, and wildlife.  Teams also give an oral presentation and were tested on this year's current issue, agroecology.
The main youth activity the Kansas Section supports each year is the Kansas Range Youth Camp.  This year the camp will be held June 18-21 at Camp Mennoscah in Kingman County.  Most of these high school students are sponsored by their local conservation district, but the camp is conducted primarily by members of the Kansas Section.  Students are exposed to a number of topics including rangelands of Kansas, plant physiology, plant identification, soils, ecological sites, monitoring techniques, prescribed burning and smoke management, wildlife management, invasive plant control, stocking rates and forage balance, grazing distribution, and grazing systems.  A ranch tour is held and students work in teams to develop a management plan.  These plans are presented orally and the students take a written and plant identification test.  Careers in range management are shared with the students.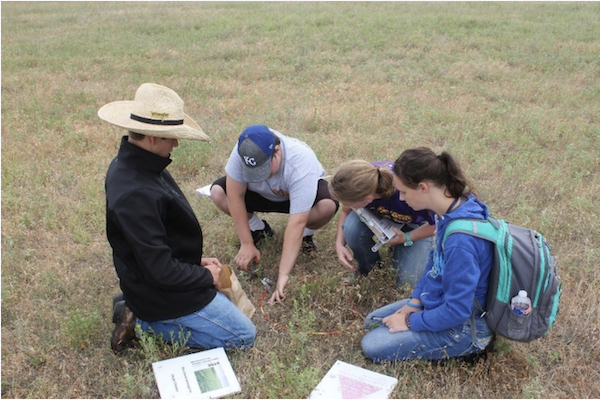 Students at the Kansas Range Youth Camp clipping to determine biomass
Kansas Section members are also involved as instructors each year at two adult range management schools organized by the Kansas Grazing Lands Coalition.  This year the camps will be held August 6-8 at Ringneck Ranch near Tipton, KS, and The Tallgrass School will be August 20-22 at Camp Wood, near Elmdale, KS.  Although topics are similar from year to year, the theme changes.  In 2019 presenters will emphasize managing outside of normal.  An invited speaker and a rancher panel will discuss the theme.  Other topics covered will include plant physiology, soil health, plant identification, measuring and monitoring, stocking rates, adaptive management, and prescribed burn associations.
This year the Kansas Section plans to co-sponsor a tour/workshop on a Flint Hills ranch where the manager is trying some new ideas.  He uses an integrated approach using grazing management, brush and weed control, and prescribed burning.  Other organizations involved include the Great Plains Fire Science Exchange, Tallgrass Legacy Alliance, Kansas Grazing Lands Coalition, and K-State Research and Extension.
Walt Fick
KS Section Newsletter Editor