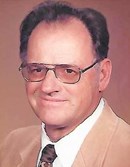 September 14, 1928 – August 20, 2019
Submitted by NV SRM Members Jim Linebaugh, Rex Cleary & John McLain
Charles (Chuck) Nash Saulisberry, 90, died August 20, 2019 at the Carson Tahoe Care Center from Parkinson's disease.  He was born in Evanston, IL to Lynn and Helen Nash Saulisberry.  Chuck and older brother Bill moved to Kenton, OH and graduated from Van Wert High School.
Chuck hitch-hiked to Reno, attended the University of Nevada (UNR) and joined the Sigma Alpha Epsilon Fraternity.  He met Josephine Caprio at UNR.  After graduating in Range Management, he married Jo and they spent 68 happy years together.  Working first for the UNR Experiment Station and joining the Nevada Air National Guard, he entered active duty on March 1, 1951.  Stationed at the Nellis Air Force Base Weather Unit, he released weather balloons for the nuclear testing at Indian Springs.  Honorably discharged in 1952, they moved back to Reno where he was employed by the Soil Conservation Service (SCS) as a Range Conservationist in Wellington, NV, doing snow surveys, farm planning, rangeland resource management, and monitoring.
He transferred to Cedarville, CA to open a Soil Conservation Service (SCS) office for Nebraska, California and NW Nevada.  His area of responsibility was so large he received his private pilot's license and bought a Piper Tri Pacer to be home more with family.  He worked 9 years with the Surprise Valley and Vya Conservation Districts on a collaborative and cooperative effort which eventually became the widely recognized Modoc-Washoe Experimental Stewardship Program.  He then moved briefly to Phoenix AZ and transferred to Carson City, NV where he was USDA River Basin and Watershed Planning Leader, overseeing a staff of 10 and responsible for Nevada, California and Utah rangeland and water resources studies.  Saulisberry served from 1977 as liaison between SCS and the Bureau of Land Management (BLM) coordinating and overseeing the soil survey and ecological correlation of vegetation.
Retiring from Federal service in 1984, he began a second career as a Certified Range Management Consultant (CRMC) with Resource Concepts, Inc. and other sub-consultants.  He owned and operated a private flying service for 45 years and was often called as an expert witness, giving testimony in lawsuits or appeals of federal or state agency decisions and regulations, aerial photography, and air taxi service.
As much as he loved his work, his true passion was flying his Cessna 182 both for business and pleasure.  He was a Lifetime member of the Carson City Sherriff's Aero Squadron and never turned down an assignment; whether it was transferring a prisoner or assisting in a search for a lost aircraft or a missing hiker.
Chuck and Ron Lott started S&L Air Transportation to return remains and scatter cremains whenever and wherever needed but mostly in the Sierras.  Their motto of "You die, we fly" was printed on their business cards.  Chuck obtained an instrument rating, commercial license, and Part 135 Certificate.
It is not an overstatement to say that Chuck was liked by all who knew him; and would do anything to meet the needs of family or friend.  His dedication to career and his devotion to those he cared about stand as a testament to the type of man he was.
Chuck was the last surviving Charter Member (since 1950) of the NV Section Society for Range Management (SRM) and Executive Secretary for NV SRM.  He served in nearly all NV officer and committee positions over the years.  He was an SRM Fellow and received a Sustained Lifetime Achievement Award for almost 7 decades of service to SRM, and a Special Board of Directors Citation for Outstanding Leadership with the Partnerships and Affiliations Committee.
Chuck was a 60 year member of the Masonic Lodge, Eastern Star, 53 year member and former elder of the Presbyterian Church, Captain in Civil Air Patrol, Aircraft Owners and Pilots (AOPA), lifetime member Carson City Sheriffs Aero Squadron, SCS, NRA, past member of Carson City Rotary, Carson City Historical Society, Kit Carson Trail Guide, 45 year Instructor for the Carson City Junior Ski Program, volunteered many years at Reno Air Races, and served on the Board of Equalization.  An avid Chicago Cubs fan, Chuck finally was able to see them win the National League pennant.
He is survived by his wife Jo, son Dan (Neva), daughter Kathryn Smith (Gary), five grandchildren, fourteen great grandchildren, two great-great grandchildren, Sister–In–Law Annette Mortimer, many nieces, nephews, cousins, and long-time friends.  He was preceded in death by son Tracy, brother Bill and granddaughter, Danielle Carpenter.  A Memorial Service took place September 7, 2019, at the First Presbyterian Church in Carson City.
Donations may be made in Chuck's name to either:
Range Conservation Foundation
PO Box 1595
Carson City, NV 89702
Society for Range Management 
6901 S Pierce St STE 230
Littleton, CO  60128