Young Professionals Conclave

---
What is Young Professionals Conclave (YPC)?
Our Mission:
To strengthen the relationships between students, apprentice members, young professionals and experienced professionals within SRM to promote strength in leadership, education, research, and stewardship of rangelands. This mission implies three major roles:
YPC is a group for individuals that are in the senior year of an undergraduate program, graduate program and/or in their first 5 years in the job field that will assist in retaining membership of the student and apprentice members in SRM.
YPC will provide opportunities to help build relationships between students, graduate students, young professionals and long-time members.
YPC is the initial liaison for undergraduate students, graduate students and young professionals seeking an active role and participation in SRM.
A History of Young Professionals Conclave
The Young Professionals Conclave (YPC) was formed in response to a brainstorming session that took place at the 2005 SRM Annual Meeting in Ft. Worth, TX. The group was organized by Dennis Phillippi (SRM Board Member) and asked to address the growing membership retention concern with SRM; where were all the young professionals? Approximately 12 people were invited to speak with Dennis Phillippi about the young professional movement in SRM. However, a diverse group of nearly 40 young range professionals took interest and attended the meeting. Mr. Phillippi facilitated the session as young professionals brainstormed their concerns and ambitions within the Society
The formation of YPC was stimulated by the recognized need to pass the torch from senior, more experienced members to younger or less experienced members. When formed, it was determined that the intention of the conclave was to ease the transition for range professionals from college to career, or for those changing careers and who may be new to the industry, by assisting in bridging the generational gap within the SRM. This would be done by hosting events designed for young or less experienced professionals, and by providing opportunities to network with other young professionals as well as with senior members. This strong collaboration with the SRM would, thereby, ease the maturation process of range management and associated professions, as a whole.
The document below outlines the officer team history from the formation of the group in 2005 to present:
(as of 2/13/2019)
2019 Officers:
President:  Veronica Urbanczyk
Vice President:  Kaelie Pena
Secretary:  Averi Reynolds
Treasurer: John McQuaig
Public Relations:  Marissa Humphreys
Recorder: Jaycie Arndt
Past President (Advisory Council):  Bree Lind
Advisory Council:
Grace Woodmansee, Mary Jo Foley-Birrenkott, Josh Hanson, Julia Hanson, Mike Bartmess, Sarah Schwarz
  Veronica Urbanczyk, YPC President: veronicaurbanczyk@yahoo.com
I am Veronica Urbanczyk, currently serving as the Society for Range Management-Young Professionals Conclave President. My position at Texas Tech University is a graduate research assistant pursuing my master's degree in Wildlife Aquatic Wildland Science Management and am a part of the TTU Quail Tech Alliance Research Team as a wildlife biologist and range scientist. My research is focused on studying northern bobwhite quail in measuring and observing "Factors that Influence Chick Survival" including resource use, predator activity, weather, and insect abundance. I have completed two field seasons during an 9-month period from January to September of 2017&2018 and am currently attending classes and in the progress of writing my thesis.
At Texas A&M University I received my bachelor's degree in Science, majoring in Rangeland Ecology and Management with a double major in Wildlife and Fisheries Sciences.  In previous summers, I have been given the opportunity to be a part of internships with TPWD at the Gus Engeling Wildlife Management Area in Tennessee Colony, Tx and on a private ranch operation at the O'Connor Brothers River Ranch in Refugio, Tx. Throughout my undergraduate career, I have been an Earth Team Volunteer with NRCS, volunteered with TPWD spotlight surveys, check stations, and youth shoot events along with remaining active with the Texas Brigades.
My involvement at TAMU included serving as Vice President of Range Club in 2015-2016 along with participating on the Plant ID and URME Team for four years. Through the Society for Range Management professional organization I was the Student Conclave President in 2015-2016 and was the co-chair for the Young Professionals Conclave at Texas Section SRM from 2016-2017. After I complete my education I plan on pursuing a career in natural resource management through employment with a private consulting agency or private ranch.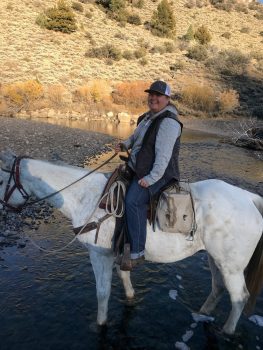 Kaelie Pena, YPC Vice President: kaelie.pena@gmail.com
I grew up in Susanville, CA where I was heavily involved in 4-H and FFA and family activities included hunting, fishing, hiking, and off-roading. After receiving my A.S. in Fire Technology, I knew I wanted to continue my education in agriculture or natural resources, but was unsure of which to choose. Luckily, I didn't have to choose when I found the perfect combination of the two in the field of rangeland management. I attended Humboldt State University and received by B.S. in Rangeland Resource Science with minors in Fire Ecology and Ecological Restoration. While at Humboldt, I was heavily involved in the Range and Soils Club and a member of the Range Plant I.D. Team. I've been involved with SRM since 2015, having attended several Annual Meetings, competing in the Plant Identification Contest, the URME, and the university club booth, and served as Student Conclave Secretary for the St. George, UT meeting. Through SRM, I was lucky enough to be selected for a Pathways position during a Forest Service Direct Hire event. I interned during the summers of 2016 and 2017 and started my full time position with the Humboldt-Toiyabe National Forest on the Bridgeport Ranger District in January of 2018. After serving as the YPC Secretary in 2018, I knew I wanted to stay involved and am grateful to be able to serve Young Professionals as the 2019 Vice President. When I'm not working, I enjoy spending time with family and friends (including my two crazy dogs, Lady and Josie, and two cats, Chloe and Dozer), and being outdoors hunting, fishing, kayaking, hiking, and geocaching. I am very excited to continue my involvement with YPC and the Society. Being involved with YPC has allowed me to make many professional connections and friendships that I know will benefit me throughout my career. If you have any questions, ideas, or want to become involved in YPC, please feel free to contact me at kaelie.pena@gmail.com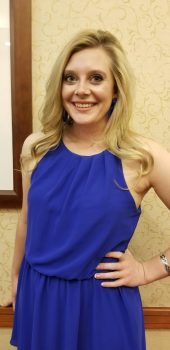 Averi Reynolds, YPC Secretary: areyno15@uwyo.edu                                                  
My interest in rangeland ecology and management was sparked when I attended the Wyoming Resource Education Days Range Camp in high school. I then decided to major in Rangeland Ecology and Watershed Management at the University of Wyoming with a minor in Agricultural Business. I was blessed to intern on a long-term grazing study at the High Plains Grassland Research Station in Cheyenne, WY and Central Plains Experimental Range in Nunn, CO that turned into an opportunity for a graduate research program. I am currently pursuing my Masters in Animal Science at the University of Wyoming, and leading efforts to answer the question, "Do steers with different genetics and origination environments (southeastern Nebraska, high-altitude Colorado, and local ranch raised) exhibit differences in grazing behavior, diet quality, species grazed, use of pastures, forage intake, weight gains, and changes in the rumen microbiome?" I hope to answer this question to improve the efficiency of beef production and lead into a career working with both livestock producers and land managers.
At the 2018 SRM meeting in Reno I was elected to serve as the Student Conclave Vice President. From my year of service, I became really passionate about gaining and retaining student membership as well as improve the network among students and professionals in the industry.  I am excited to make the transition from a student member to a young professional serving as a member of the YPC officer team, and to continue my involvement within the Society for Range Management!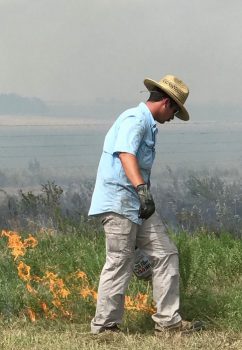 John McQuaig, YPC Treasurer: johndmcquaig@gmail.com
My interest in range began my senior year of high school when I realized that my two greatest passions, wildlife management & livestock operations, could be combined into one career field: rangeland ecology. I got involved with the Oklahoma State University range club my freshman year of undergrad and later became president of the club. It was through my university club that I was able to attend the National SRM Meeting and become involved with the parent society. I have served as both vice president & president for the SRM Student Conclave. SRM has benefitted my career by giving me leadership opportunities within my profession as well as providing national and international relationships that have aided in my professional development. Before and during my undergraduate education, I have worked for both private & corporate cattle companies, as a fishing guide, at a nature center, and as an OSU research technician.
I am currently a M.S. candidate at Oklahoma State University. My research project is focused on vegetation response to prescribed fire and herbicide treatments across various ecosystems in Oklahoma and how those treatments will affect Northern Bobwhite use and densities. My career interests include prescribed fire, grazing behavior, grazing systems, grassland wildlife species, & landscape ecology. I enjoy breakfast food, fishing, hunting, and everything outdoors.
My goals as YPC Treasurer are to increase our number of sponsors, increase our financial support, and effectively use our increase in funds to enrich and benefit the young professionals involved with SRM.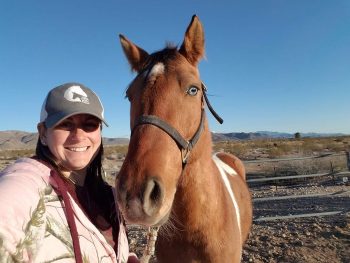 Marissa Humphreys, YPC Public Relations Officer: ditunnom@oregonstate.edu   
I am Marissa Humphreys and while I am new both SRM and YPC, I look forward to serving as the Social Media/PR coordinator over the next year. Currently, I am working as a Wild Horse and Burro Intern for Arizona Conservation Corps/Bureau of Land Management in Kingman, AZ while I finish up my Masters of Natural Resources through Oregon State University's ecampus. My capstone project for my masters focuses on the public perceptions of wild horse and burro management, and how there is a disconnect between the message the management agencies promote versus what the public perceives.
I grew up in Central Oregon, where my family raised and showed Peruvian horses. I have been riding horses since I was five years old, and starting showing Peruvians when I was about eleven. Since then I have won multiple regional and national championships in the US and Canada, and have passed on my passion of the Peruvian breed by teaching multiple clinics for junior riders. Within the last few years however I have fallen in love with the mustang breed, and recently adopted two rescue mustangs.
Outside of work and school, I enjoy spending time with my horses, family and my two golden retrievers. Since, I recently moved to Arizona I have enjoyed exploring a new area and learning about how the rangelands are managed here compared to Oregon. In the future I hope to continue my career in the wild horse and burro field, or as a wildlife biologist. I look forward to working with all of you this year, and if you have any suggestions for the social media pages please feel free to let me know!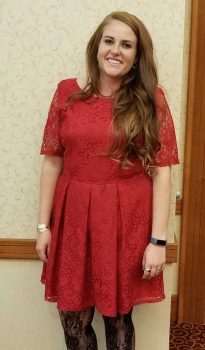 Jaycie Arndt, YPC Reporter: jardnt@uwyo.edu    
I grew up in Arvada, Wyoming on a family owned cattle and sheep ranch. I grew up being heavily involved with livestock production and range management. I then attended Sheridan College in Northeast Wyoming where I took my first class in plant identification. It was during that semester that I officially became a plant nerd. Since then I have attended the University of Wyoming where I majored in Rangeland Ecology and Watershed Management with a minor in Soil Sciences. I am enthralled with how ecosystems work as a whole. The interaction between soil, water, plants, and organisms is an entangled yet remarkable system. My interest in rangelands is built upon the complexity of range ecosystems and is enforced by my college education and time interning for the University of Wyoming Research and Extension Center. Currently I am a M.S. Candidate at the University of Wyoming in Plant Sciences. My research focusses on germination, establishment, and survival of live plant materials of difficult range reclamation plants. The hope is to improve seed price and availability of desirable reclamation plants.
I have been involved in the Society for Range Management for three years as a student member. This year my goal as the YPC Reporter is to increase the communication and knowledge between young professionals in SRM through effective newsletters throughout the year.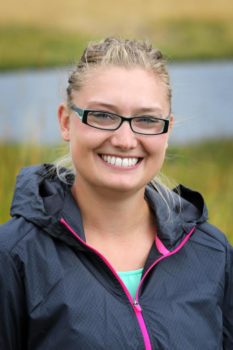 Bree Lind, YPC Past President (2019): bree.lind33@gmail.com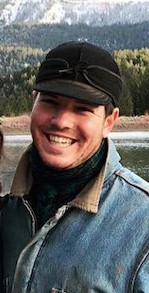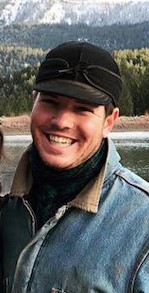 Josh Hanson, YPC Advisory Council (Young Producers Forum Chair): josh.hanson722@gmail.com   
Hello, my name is Josh Hanson and when I heard rangelands described as "the interaction between plants and animals" in a class during my undergrad at Oregon State University, I was hooked and switched my major to Rangeland Science. I am currently a master's student in Animal and Range Sciences at Montana State University. My project is focused on grazing first year after the Lodgepole Complex fire and how to best communicate that science to the working land manager.
I first attended an SRM annual meeting three years ago competing in Plant ID and URME. I have since gone back to maintain the relationships I have built as an SRM member, as well as make new ones. I was introduced to my major professor at a YPC Bridging the Gap and that is where I developed the relationship that turned into a master's project. I decided to join YPC because I see a disconnect between agency folks and producers, and would like to voice my opinion on a platform where it can be heard. I have a desire to advocate for production agriculture and this provides me with an opportunity to do that.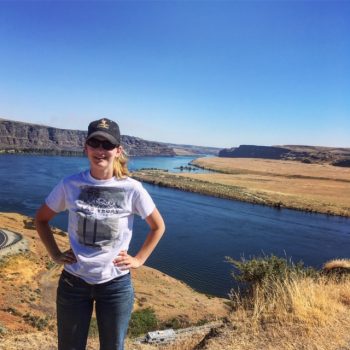 Julia Hanson, YPC Advisory Council (Wildrag Task Force Chair): julialbarnes@gmail.com
I first became interested in rangeland science when I was attending Oregon State University studying Animal Science with a focus on beef production. Learning about how cattle can be used to manage and improve rangelands really sparked my interest and provoked me to take more range classes and learn more about range science. I attended my first annual SRM meeting in 2018 in Sparks, NV where I learned more about the society and first learned about Young Professionals Conclave. In Minneapolis, MN I was the 2019 annual SRM meeting intern and was able to get more involved with SRM as well as YPC. I see the need for more young professionals in range as well as building positive connections between producers and agencies. I'm excited to be on the Wildrag task force to be able to help fund YPC's activity and create beautiful wildrag designs!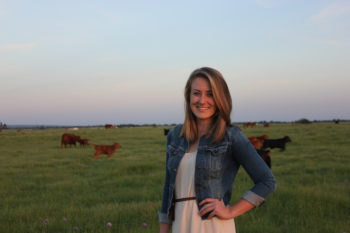 Grace Woodmansee, YPC Advisory Council: gwoodmansee@ucdavis.edu
I become interested in rangeland science and management my junior year of college, working as a student research assistant in the Chico State College of Agriculture. After attending my first SRM meeting in 2014 I was hooked, and have been working on the range ever since! I am currently a graduate student in the UC Rangelands lab at UC Davis, and look forward to integrating my interests of rangeland management, livestock production and outreach into a career in cooperative extension. I am excited to continue my involvement in YPC as a member of the Advisory Council and to remain involved in SRM as a young professional. Attending SRM meetings as an undergraduate was an integral aspect of my collegiate career and provided the opportunity to network with professionals and other students, opening the door to internships, jobs and friendships across the country. I hope to assist fellow recent graduates in bridging the gap between student and professional SRM membership.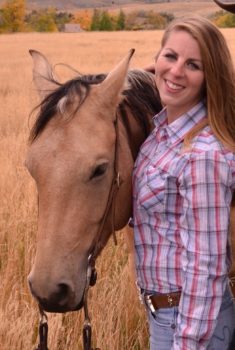 Mary Jo Foley-Birrenkott, YPC Past President (2017): srmoutreach@rangelands.org 
2020 YPC Travel Scholarship
2020 TRAVEL SCHOLARSHIP APPLICATIONS CLOSED
The Society for Range Management-Young Professionals Conclave (YPC) offers travel scholarships to outstanding young professionals active in range management to assist in paying for attendance to the national Society for Range Management (SRM) Annual Meeting.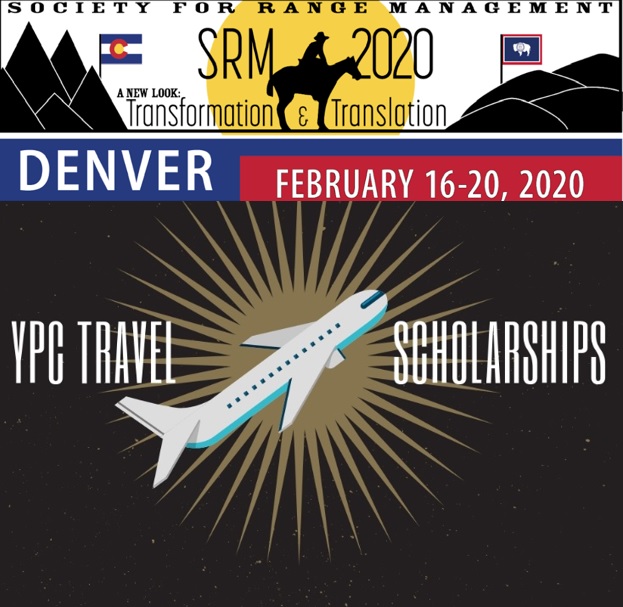 Congratulations to the 2020 YPC Travel Scholarship Recipients:
Bill Wells, Katlyn Uhart, and Lewis Mendive!
Katlyn Uhart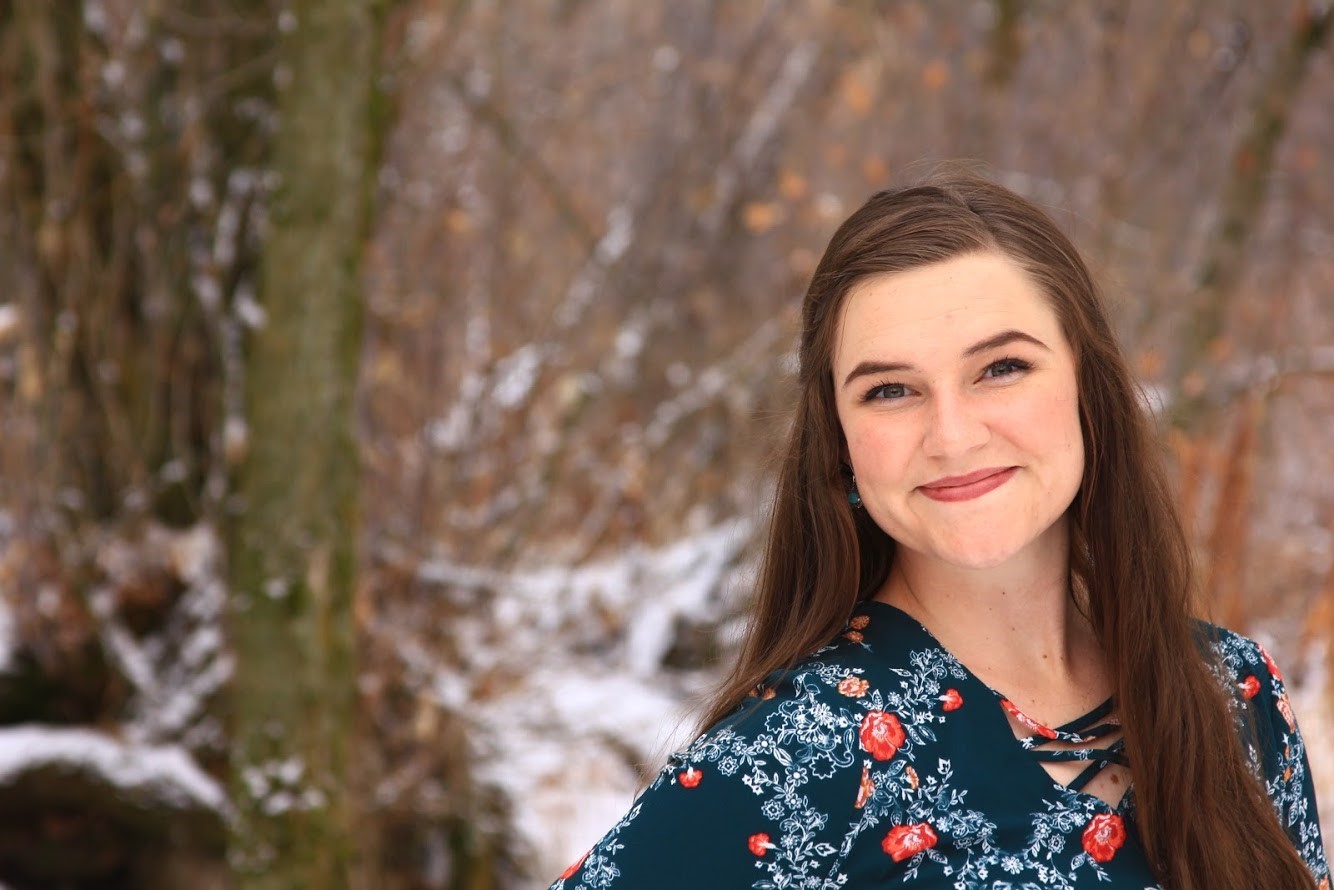 Katlyn Uhart is a recent graduate from Utah State University with a degree in Agricultural Communication and Journalism. Her passion for rangelands stems from her background in cattle ranching with her family, a lifestyle that she is proud of and feels blessed to have grown up in. Ms. Uhart is newly employed as a Range/Resource Technician with Resource Concepts, Inc. where she enjoys learning and growing every day. She is proud to be part of such a wonderful team and is excited to see where her career takes her!
Ms. Uhart has been involved with the Society of Range Management since she was a senior in high school, when she participated in the High School Youth Forum and took first place in the public speaking competition. She was also an active member in the SRM Student Conclave and had the honor of being elected the 2017-2018 Public Relations Officer. Now, as a young professional, Ms. Uhart is thrilled to take an active roll in the Young Professionals Conclave. She is thankful for all of the opportunities and connections she has made through the SRM and appreciates the continued support and encouragement of everyone she meets through the society.
Bill Wells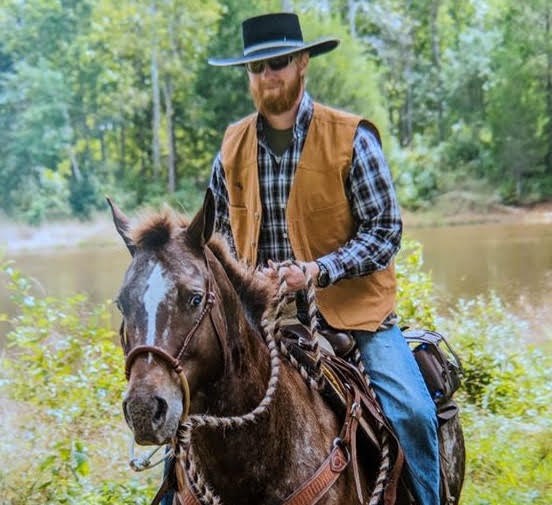 My name is Bill, I grew up in North Carolina and moved to Wyoming after high school to work on ranches and have remained in the state ever since. I have now been in Wyoming for seven years, worked on a variety of ranches across the state and graduated from the University of Wyoming with a degree in Agricultural Business. After graduation I started to come to the growing realization that what I loved most was the interaction of the land and the cattle. This growing passion has driven me to try to learn everything that I can about rangeland grazing and seek to be an active member of SRM. I want to make a difference in ranching by helping strike a balance between cattle and the land by becoming a consultant. I am currently job searching and hoping to get into grad school in the near future to further my understanding of the underlying science.
Lewis Mendive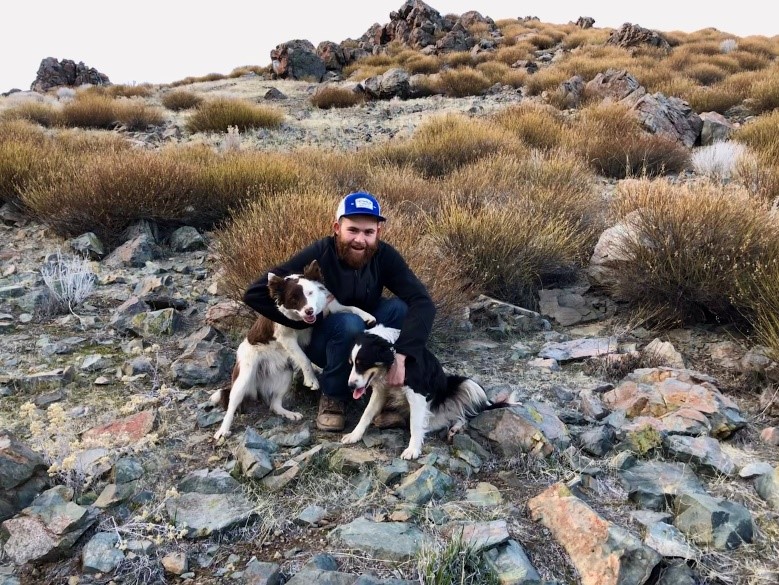 Lewis Mendive is a Rangeland Conservationist with Resource Concepts, Inc. in Carson City, Nevada where he has worked since his graduation from the University of Nevada Reno in 2018. Mr. Mendive received his degree from UNR in Rangeland Ecology and Management. He has been an active participant in the Society for Range Management since 2016, and was honored to serve as the Student Conclave President from 2017 to 2018.
Mr. Mendive is particularly drawn to learning more about livestock management and how he can help producers in Nevada. He fondly remembers growing up and helping friends during branding and haying seasons, as well as camping trips with his family on northern Nevada's public rangelands. He believes that it's important for public land to be maintained in a way that is positive and viable for everyone. Mr. Mendive values the networking and knowledge that he has received through the SRM over the years, and looks forward to many more conferences.
Congratulations to the 2020 Young Producers Scholarship Recipient:
Selby Boerman!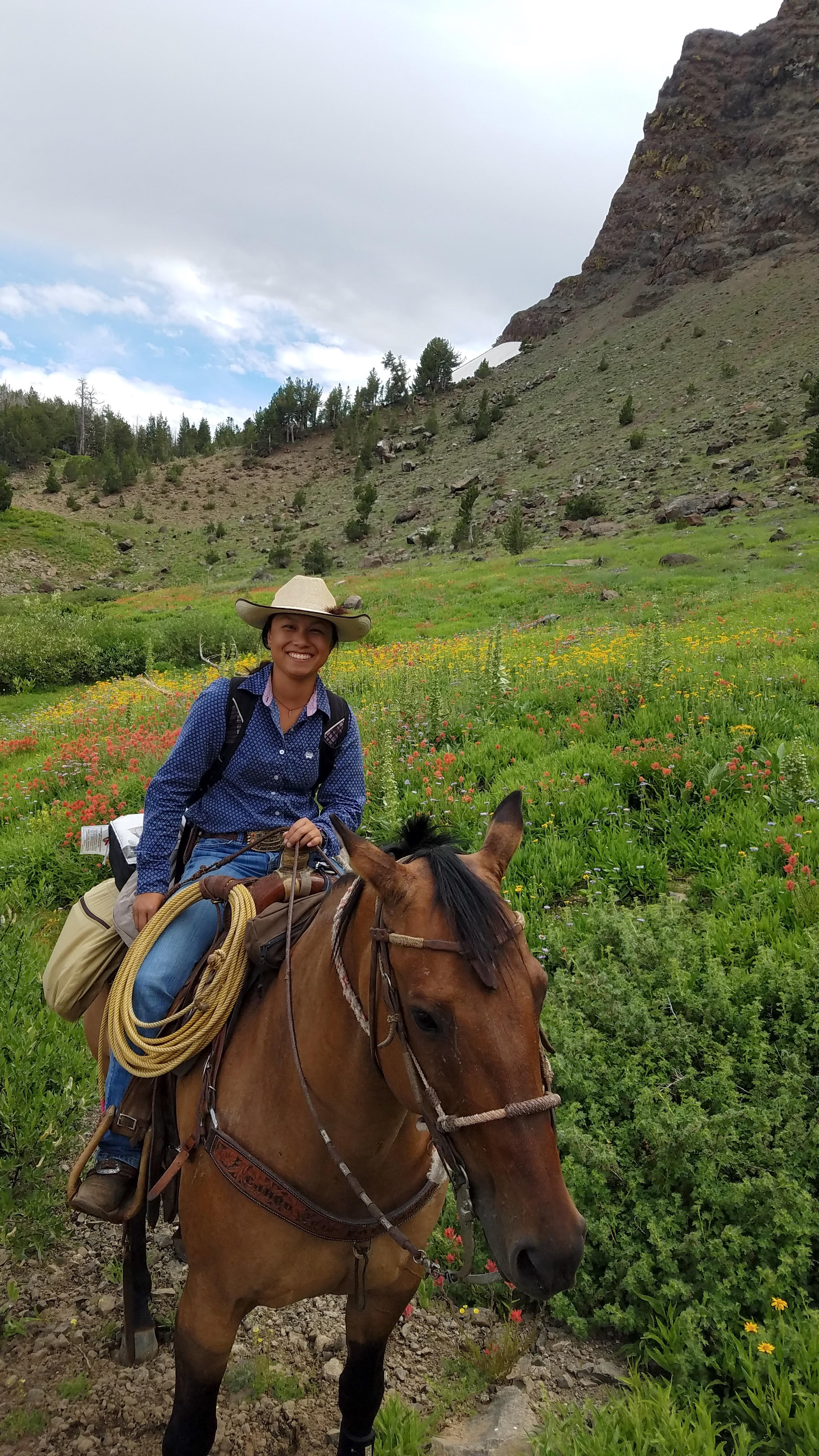 I graduated from Cal Poly, San Luis Obispo where I received a bachelor's degree in Animal Science and minor in Rangeland Resources. Involvement there included Young Cattlemen's Committee, the mule packing team, and the animal science academic quadrathlon team.
My love for livestock was initiated in high school when I began working on a friend's cattle ranch near Montague, CA. I started my own herd by buying a bottle calf from them and currently have 15 head of commercial Hereford/Angus cattle with goals to expand the herd into a more viable operation. In college, I lived at the beef unit where I gained experience with every aspect of the production cycle from breeding cows to fabricating beef at the meat processing center. My interest in rangeland management began while I was working on the Cal Poly ranches and saw the positive impact that grazing management had on the annual grasslands. This led to my second career goal of becoming involved with applied research to benefit producers and help them efficiently manage their natural resources, potentially as a university extension advisor. I recently finished an internship with UC Cooperative Extension and plan to take an internship with UNL extension at the Gudmundsen Sandhills Laboratory.
This is my first year getting into SRM and YPC, and through involvement I look forward to making connections with resources that will enhance success in my career endeavors. I also hope to network with other young professionals and become more involved with SRM in the future.
3rd Annual YPC/Student Conclave "Bridging the Gap" Mentorship Event"!
Tuesday, February 18th, 4:30PM-6:30PM
2020 SRM Annual Meeting, Denver, CO

Calling all Mentors and Mentees!
Join YPC and Student Conclave at the 3rd Annual Bridging the Gap!
The Young Professionals Conclave, in conjunction with Student Conclave, is excited to host the third annual Bridging the Gap mentorship event at the SRM 2020 annual meeting.
The objective of  this mentorship event is to build more connections between the student/young professional membership of SRM and established professionals. Mentees and mentors will participate in a semi-structured activity to facilitate discussion and networking, with the intent of helping mentees navigate career opportunities in rangeland science and management.
Students and young professionals looking for a job, internship, grad position or career advice will not want to miss this event!  
We have modified our program based on participant feedback, and have new resources available to strengthen networking opportunities between mentees and mentors. Join us for drinks, appetizers, raffle prizes and conversation at the 2020 annual meeting!
This event is free but you must register for it on your meeting registration form to secure your place at the event!  Contact srm@allenpress.com or call 785-865-9456 if you're not sure if you registered, or you need to add it to your registration.
See you in Denver!
2020 YPC Wild Rags
2020 WILD RAG PRE-ORDERS NOW AVAILABLE!!

"Don't forget to get your commemorative Young Professionals Conclave (YPC) Wild Rag!"
Each year the YPC solicits brands from producers to be featured on our fundraising wild rag.  Profits from Wild Rag sales help to fund our YPC Travel Scholarship that assist Young Professionals in attending the SRM Annual Meeting. Pre-order your commemorative Wild Rag today!!
Click the link below to download the 2020 Wild Rag Pre-order Form!
4th Annual YPC Range Runners Fun Run - Denver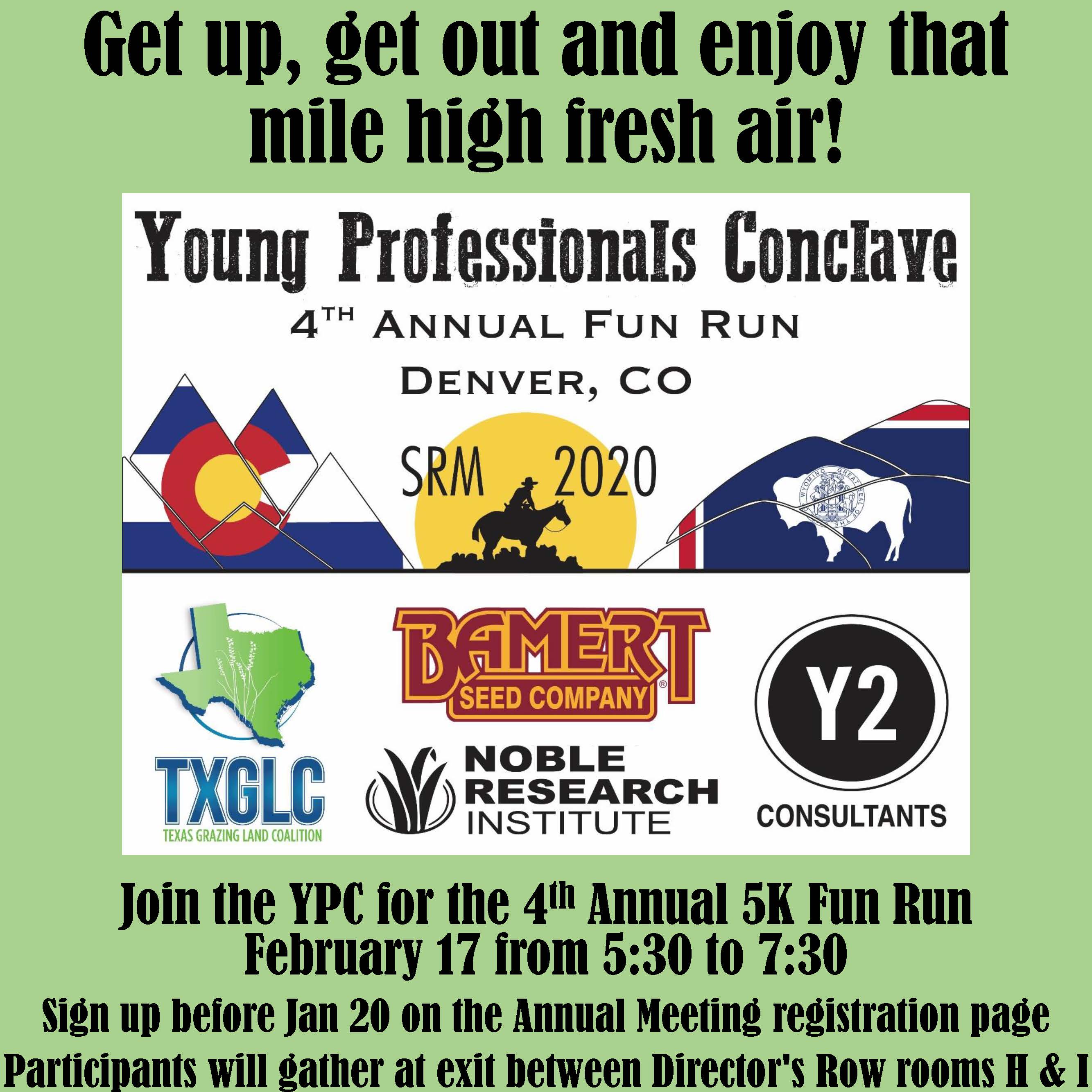 Commemorative t-shirts available to those who pre-register, and are first come-first serve to those who register on site at the meeting.
See you in Denver!