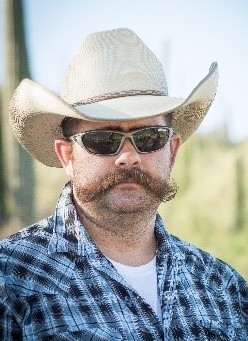 David Brischke, VP AZ Section
Area Assistant Agent, ANR
Mohave & Coconino County Cooperative Extension
The University of Arizona
The Arizona Section of the Society for Range Management (SRM) embarked on a theme of "The Year of Native Rangelands" for our annual events this year. Arizona has almost 20 million acres of Tribal Lands (~27 %), most of which is rangeland. A search into the AZ Section archives reveals the first reference to SRM activities on Native Rangelands can be found in 1957 in what is now k
nown as the White Mountain Apache Tribe Reservation. The Section has sporadically held events on other Native Rangelands: 1958 (San Carlos Reservation), 1967 (Navajo Reservation), 1971 (Tohono O'odham Reservation), 1976 (San Carlos), 1989 (Navajo Nation in conjunction with NM Section), and most recently in 1996 (Black Mesa Mining Complex on Navajo).  So, after more than 20 years, we are finally going back to learn more about these important rangeland resources.
The Arizona Section hosts four events through the year, a spring and fall tour and two general membership meetings in summer and winter. This spring, the Arizona Section co-hosted a spring field tour and monitoring workshop with UA Cooperative Extension on the Hualapai Reservation in April. The workshop/tour was a great success with over 30 people attending both days! The attendees represented most of the tribes located in northern Arizona as well as agencies and general public. The tour focused on great management within some of the Hualapai Grazing Districts and the issues they face. AZ Game and Fish Department led an intense discussion on prairie dogs and the black footed ferret reintroductions occurring around the state.
Wow! What a special Summer Meeting we had! The setting for base camp was at about 6500 feet in elevation in the Ponderosa Pine at the Hualapai Youth Camp; a gorgeous, brand new facility. We were able to hear from the Bureau of Indian Affairs (BIA) and Hualapai Natural Resource and Forestry Departments on: timber management, the history of grazing on Hualapai, current issues and resolutions concerning feral horses, fire management strategies to be implemented by BIA in conjunction with the Tribe which included input from two prominent members of the local Hualapai ranching community. Thursday night brought a wonderful rain and lightning storm during a fantastic presentation on the History of Hualapai and their Culture. Friday, well I will let the picture speak for itself. We were treated to a beautiful, almost exclusive view of National Canyon.
National Canyon is a finger of the Grand Canyon few people have the opportunity to visit. Hualapai Wildlife staff went over the complexity of the feral horse problem with respect to wildlife and, specifically, the impact and displacement issues of their infamous trophy elk herd; as well as the overall recreation problems within the canyon itself. I think the take home message for most of us was how progressive range management is on the Hualapai Reservation. As a sovereign Nation, the speed and efficiency with which they implement their management strategies is impressive to say the least! A special thanks to the Hualapai Nation and the Buck-n-Doe 4-H Club for their hospitality and catering.
Our Fall Field Tour was hosted by White Mountain Apache Tribe (WMAT) Land Operations Department. We learned that Hawley Lake and Davis Dam (near Whiteriver, AZ) are monuments to the Tribe's battle for its water rights. While the history is complex, it is absolutely essential to understand because, as the Tribe exercised its rights as a sovereign nation, it laid the groundwork for how their natural resources are managed today. The emphasis on utilizing tribal sovereignty allows the Tribe to build in management flexibility not typically seen with other land management agencies. For instance, the Tribe manages their hunting in a way that takes into account the cultural significance of their wildlife and prefers to manage for quality over quantity in terms of accommodating hunts for non-tribal members. The Tribe and Land Operations Department, in particular, are able to make management decisions for the best interest of their people. Familiarly, perhaps the most pressing challenge is the lack of youth involvement and interest in ranching and in agriculture in general
.
Our "Year of Native Rangelands" will conclude with the AZ Section Winter Meeting, Jan. 4th – 6th on the San Carlos Reservation. Presentations will showcase the work of our Native American Young Professionals, Ranching on Native Rangelands, and Agency and SRM Involvement on Native Rangelands. Following the meeting Erin Boyd, AZSRM Native Range Committee Chair, will host their first strategic planning session. I'll speak for the Section here in saying that we are all very excited for this meeting, and hope some of you in other Sections will join us!