SRM offers a wide variety of reference books, practical handbooks, abstracts and proceedings, indices, video, as well as subscriptions to the Rangeland Ecology & Management and Rangelands. The opinions of the authors are not the opinions of the SRM and should not imply endorsement from SRM.
---
SRM member journal subscription access:
All you need to do to gain online access to your respective journal subscriptions is log in to the SRM Business site just as you normally would do, http://srm.allenpress.com/srm/MEMBERSHIP.aspx.
Once logged in, select Journals from the menu bar. You will see a button below each journal to which you have online access which will take you directly to that journal. If you don't see a button/link below a journal you think you should have access to, please contact us at membership@rangelands.org, or by phone at 800-627-0326 x456; direct at 785-865-9456.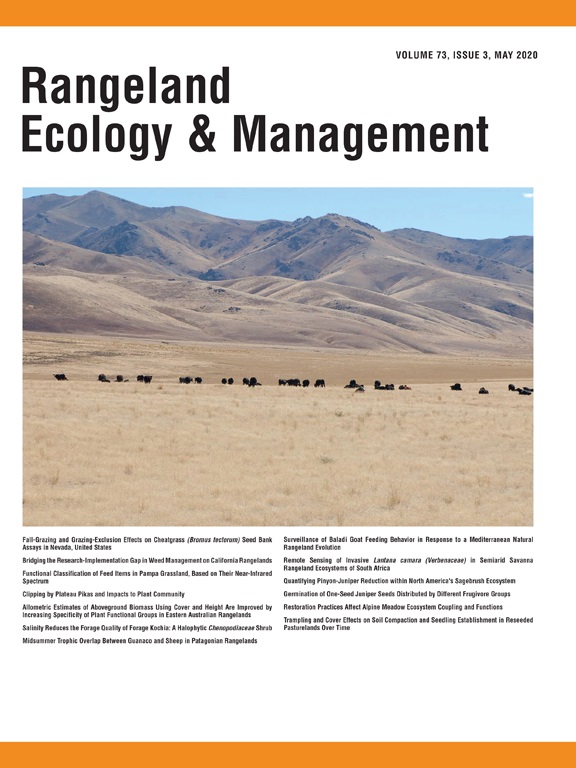 Rangeland Ecology & Management (formerly Journal of Range Management) is a publication of the Society for Range Management (SRM) and is published six times a year in January, March, May, July, September, and November. Since its premiere in 1948, the journal has provided a forum for the presentation and discussion of facts, ideas, and philosophies pertaining to the study, management, ecology, and use of rangelands and their resources. Rangeland Ecology & Management (REM) is peer-reviewed and provides international exchange of scholarly research and information among persons interested in rangelands. REM is available by subscription. SRM members receive a special discount rate!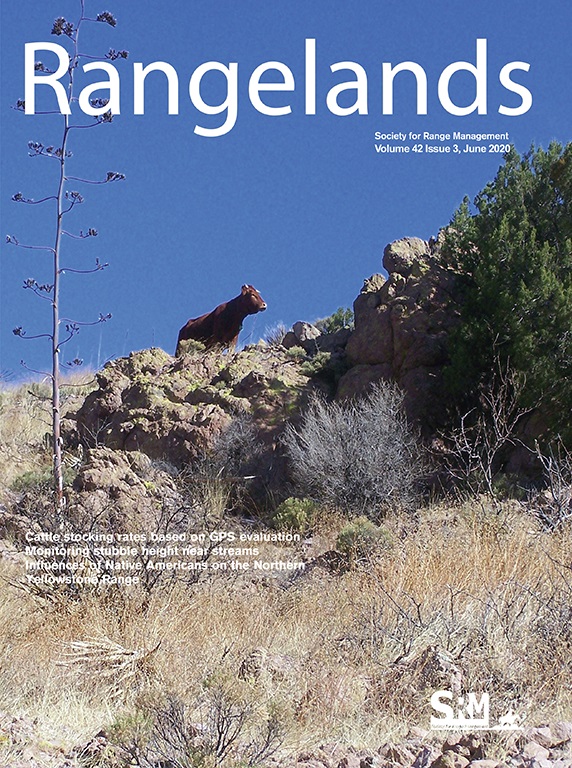 Rangelands is a full-color publication of the Society for Range Management and is published six times per year in February, April, June, August, October, and December. Each peer-reviewed issue of Rangelands features articles on the state of rangeland science (quantitative and qualitative), art, management, technology, policy, economics, education (formal and informal), society and culture; along with book reviews, highlights from the relevant scientific literature, and society news. Additionally, readers may find youth, rancher, and international forums. The journal provides readers relevant information founded in the current rangeland science and management knowledge base in a user friendly, non-technical format. Rangelands is intended for a wide-range of individuals including educators, students, rangeland owners and managers, researchers, and policy leaders. Rangelands is available by subscription. SRM members receive a special discount rate! To add a journal subscription to your EXISTING MEMBERSHIP, or for questions regarding your member subscription, please contact:
SRM Business Office at Allen Press
PO Box 7065
Lawrence, KS 7065
Toll Free: 800-627-0326
Direct: 785-865-9456
Fax: 785-843-6153
membership@rangelands.org
---
Rangelands Wants to Publish YOUR Content!
Rangelands is accepting submissions for short article types with a very low Article Processing Charge (APC) for those interested in publishing Open Access. The APC for regular full length articles in Rangelands is $1350 for members ($1500 for nonmembers) but for these short papers, the APC is just $400 for members ($500 for nonmembers). See the types of articles (and their descriptions) we are looking for below.
Click on these links for more information:
Why Publish in Rangelands?
Publish from Your Workshop, Symposium or Session in Rangelands!
---
New Virtual Rangelands Special Issue
The Rangeland Journal recently launched a new virtual special issue, titled Rangeland Dynamics and State and Transition models: an Enduring Conceptual and Practical Framework. Honoring the 30th anniversary of the seminal paper on the subject by Mark Westoby, Brian Walker and the late Imanuel Noy-Meir, originally published in The Journal of Range Management.
This virtual issue is a collection of already published papers in The Rangeland Journal which have drawn on their concepts. The issue includes a new editorial by Brian Walker and Mark Westoby that reflects on their early thinking behind state and transition models and commentary on its evolution. The issue will be available free to read online until the end of August.
You can access it here: https://www.publish.csiro.au/rj/virtualissue/2782.
Both Rangeland Ecology and Management and Rangelands have frequently published highly popular articles over the past 30 years on the application of state and transition models for rangeland management.
---
Other Publication Links:
Misc. Publications
NON-MEMBER SUBSCRIPTION