Watershed/Riparian Committee

---
Introduction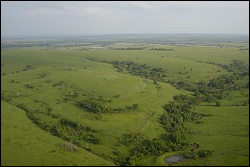 The SRM Watershed/Riparian Committee (WRC) began as a Board designated Task Group initiated in 1988 by a group of dedicated members committed to addressing emerging issues relative to this critical resource area. It remained a Task Group until 1992 when it was converted to full committee status as the need to give long-term attention to the condition of rangeland watersheds and riparian-wetland areas was recognized as increasingly important. Through periodic reviews, changing membership and flexible governance, this committee remains active and relevant, serving the Society and others in support of the strategic plan, in a manner that is congruent with existing policy and position statements, resolutions and in accordance with the bylaws. More specifically, the WRC focuses attention, knowledge and staff work on watershed and riparian issues as related to rangelands. The committee functions to:
Provide opportunities to share information and ideas, develop networks of people, and foster institutional relationships.
Serve as a forum for discussing and addressing current events, issues and initiatives.
Organize symposia bringing pertinent issues before SRM and other affiliates.
Review and provide comments on legislative or policy proposals, research and other publications. Serve on task groups when requested.
Provide recommendations to the Board concerning SRM policy and position statements and resolutions relative to watershed and riparian resource issues.
Coordinate with other SRM committees and other professional societies.
---
Session: Assessment and Monitoring of Lentic Riparian Areas
SRM Annual Meeting in Oklahoma City, OK
---

Helpful Links
Fact sheets of common eastern Oregon riparian plants: http://oregonstate.edu/dept/range/riparian-plant-fact-sheets
Idaho Plant Materials Center publications: http://plant-materials.nrcs.usda.gov/idpmc/publications.html
Plant Materials Center riparian publications: http://plant-materials.nrcs.usda.gov/technical/publications/riparian-pubs.html
Forest Service Fire Effects Information System: http://www.fs.fed.us/database/feis/
Field guide to Intermountain sedges: http://www.fs.fed.us/rm/pubs/rmrs_gtr010.html
Field guide to Intermountain rushes: http://www.fs.fed.us/rm/pubs_int/int_gtr306.html
Members
(Updated:12/17/2020)
Chair 2020: Linda Spencer, linda.spencer@usda.gov
Chair-Elect: Austin Kelly, Austin.Kelly@AggieNetwork.com

Board Repr.: John Walker, jwalker@ag.tamu.edu

Name/Phone/Email
Organization/Affiliation
Discipline
Askew, Brittney
775-848-6391
brittneya2216@yahoo.com
Range
Bailey, Derek
575-646-2554
dwbailey@nmsu.edu
New Mexico State University
Grazing
Borman, Mike
541-747-1614
michael.borman@oregonstate.edu
Oregon State University
Range
Brown, Garry
435-781-5168
gdbrown@fs.fed.us
USFS
Range
Crane, Ken
208-736-2369
kcrane@blm.gov
BLM
Range
Cutler, Niki
775-885-6016
ncutler@blm.gov
BLM
Hydrologist
Dickard, Melissa
303-236-0473
mdickard@blm.gov
BLM
AIM Section Chief
Eisner, Jimmy
541-416-6753
jeisner@blm.gov
NRST
Fisheries
Elmore, Wayne
541-447-6984
elmore@cbbmail.com
Consultant
Riparian
Freese, Erica
541-231-5267
efreese@cabnr.unr.edu
UNR
Range
Fults, Gene
503-273-2430
gene.fults@por.usda.gov
NRCS WNTSC
Range/Riparian
Galbraith, Molly
541-416-6714
mgalbrai@blm.gov
BLM
Range
Gonzalez, Mark
541-416-6705
mgonzale@blm.gov
NRST
Geomorphology/Soils
Hagener, Lou
406-265-5205
lihagener@bresnan.net
BLM Retired
Range/Riparian/Grazing
Hays, Misty
307-359-4027
mahays@fs.fed.us
USFS
Range
Hecker, Garret
701-590-4540
hecker_3@yahoo.com
Consultant
Range/Wildlife
Heilman, Philip
phil.heilman@usda.gov
 ARS
Range
Hirsch, Marilynn
406-853-2670
redrresources@gmail.com
Range
Holtzman, Susan
503-784-0618
sholtzman@outlook.com
NRST Retired
Riparian
Hulvey, Kris
408-384-1124
kris@workinglandsconservation.org
Working Lands Conservation
Lead Scientist
Jensen, Holger
406-329-3564
holgerpjensen@fs.fed.us
USFS
Range
Kelly, Austin
254-477-3213
Austin.Kelly@AggieNetwork.com
Kuyper, Michael
mkuyper@blm.gov
Range
Lent, Emily
541-416-6789
elent@blm.gov
BLM
Range
Leary, Ryan
775-885-6136
BLM
Range
Lossing, Sam
lossings@ymail.com
UNR
Range
Manning, Mary
406-329-3304
mmanning@fs.fed.us
USFS
Vegetation Ecologist
Mayagoitia, Piedad
575-202-1995
New Mexico State University
Range
McArthur, Cindy
202-577-7863
cmcarthur@fs.fed.us
USFS
Range
Meays, Cindy
Cindy.Meays@gov.bc.ca
BC Ministry of Environment
Water Quality
Meehan, Miranda
miranda.meehan@ndsu.edu
Meiman, Paul
970-491-0906
pmeiman@warnercnr.colostate.edu
Colorado State University
Range
Moffitt, Jennifer
541-416-6775
BLM
Range
Noelle, Sarah
623-580-5535
smnoelle@email.arizona.edu
U of AZ
Range
Noseworthy, Cara
cnosewor@uwyo.edu
University of Wyoming
Range
Ochoa, Carlos
541-737-0933
Carlos.Ochoa@oregonstate.edu
Oregon State University
Rangeland Hydrology
Phillippi, Matt
matthew.phillippi@usda.gov
NRCS
Range
Quistberg, Sarah
801-629-0580
sarah.quistberg@ut.usda.gov
NRCS
Riparian/Botany
Ray, Grace
775-233-1189
Grace.ray@retranches.com
Rangeland Ecology
Reynolds, Lindsay
303-236-9045
lreynolds@blm.gov
BLM
Riparian
Repp, Jeff
503-351-0437
jeff_repp@yahoo.com
Consultant
Range/Riparian
Rhodes, Edward
edward.rhodes@agnet.tamu.edu
Rice, Dwayne
503-351-0437
richard.rice@usda.gov
USFS
Range
Rutherford, Andi
arutherford@biohabitats.com
Skinner, Quentin
678-455-3620
qskinner@uwyo.edu
University of Wyoming
Riparian
Smith, Erin
775-848-6504
dearwriter@aol.com
Range
Smith, Steve
541-416-6703
sjsmith@blm.gov
NRST
Range/Riparian
Spencer, Linda
907-723-2112
linda.spencer@usda.gov
USFS
National Rangelands Vegetation Ecologist
Staats, Janice
541-416-6891
jstaats@blm.gov
NRST
Hydrology
Stephenson, Mitch
307-321-5827
New Mexico State University
Range/Grazing Management
Stringham, Tamzen
775-784-6755
tstringham@cabnr.unr.edu
UNR
Range/Riparian
Strong, Larry
701-253-5524
lstrong@usgs.gov
USGS
Range
Sturla, Jeffrey T.
480-595-3331
jsturla@fs.fed.us
USFS
Rangeland Management
Swanson, Sherm
775-784-4057
sswanson@cabnr.unr.edu
UNR
Range/Riparian
Tate, Ken
530-754-8988
kwtate@ucdavis.edu
UC Davis
Rangeland Watershed Specialist
Van Dusen, Bruz
Bkarlylevd@gmail.com
Range
Welling, Bob
406-965-2566
welling.bob@gmail.com
Double Cross Ranch
Cash Cattle Biz
Cattle Behavior,
Grazing for Production
Wendt, John
720-839-8847
johnwendt.iv@hotmail.com
Synergy Solutions
Technician
John Williams
john.williams.1@oregonstate.edu
Range
Wyman, Sandy
541-416-6886
NRST
Range
Activities
Activities:  Current & Future Activities 2013-2017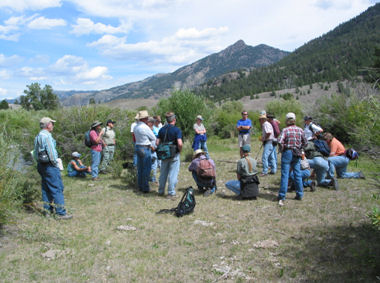 Together, in the field, people with diverse backgrounds and interests learn about riparian areas, and explore grazing management strategies that can result in achieving desired outcomes for multiple objectives.
Photograph taken at East Fork Salmon River, Idaho
Ongoing:  WRC members are coordinating with the Range Science Education Council and the Accreditation Committee providing specific recommendations on fundamental watershed and riparian core competencies that need to be addressed in university coursework for adequately preparing range professionals.  We increased the number of riparian-wetland plant species in the SRM plant contest and the inclusion of watershed/riparian related questions in the URME.  The WRC participates with other committees to update the SRM Glossary of Terms.  We have a core that regularly participates and collaborates with other Committees to present information that improves understanding of riparian ecosystems.   The WRC assists the Board Representative in efforts to foster better communication and integration between committees within the Science & Technology Division.
2013 Symposia:  Lentic Riparian Resources (continued) – The WRC recognizes lentic (standing water)  resources as an emerging area of interest on rangelands.  There is high demand for additional education and training relative to understanding and managing these important areas of the landscape.  In support of this need, the WRC conducted a one-day symposium at the 2011 Billings meeting followed by a half-day session at the 2013 Oklahoma City meeting.  These sessions provided a progression of learning, beginning with the term lentic and all the diverse types of lentic systems, all aspects of function (hydrology, vegetation, soils/landform), function/values linkage, setting objectives for lentic systems, lentic classifications and management issues, etc.  Inventory, assessment and monitoring are other important categories to cover factoring in both temporal and spatial scales.
2013 Symposium: The WRC was a co-sponsor of the Targeted Grazing Committee's symposium on grazing distribution highlighting the latest research and findings in both the art and science; papers will be published in Rangelands.
SRM High School Youth Forum Support: Members of the WRC will contribute as requested.  Past activities include an emphasis on Riparian Function and Values and Riparian Monitoring as well as assistance with field site visits. WRC members regularly serve as judges for the High School Youth Forum paper presentations.
Workshops/Symposia: A number of topics have been discussed and are being considered for future WRC activities.  Some of these include:
Applied Management: What have we learned? -This session would illustrate some of the management efforts of the past 10 years where new and various concepts and practices have been applied.  The idea is to examine what has been tried in science application, what has been learned, and are there new things to consider; some work and some don't and perhaps other's have been abandoned too soon?  Topics could include aspects of grazing management, livestock behavior, plug and pond, other restoration, roads/maintenance, fire, energy development including wind and solar, etc.
Monitoring Riparian Resources – The WRC feels that riparian monitoring is another important focus area.  Initial planning is focused on creating some kind of forum(s) that would emphasize a multi-step approach linking assessment, management and monitoring by objective (not formula or specific numerical standards).  This would include an introduction of basic concepts with follow-up of methods and the corresponding interpretation and use of results and could also feature lessons learned (what's worked well and what hasn't) and illustrate adaptive management scenarios.
Management, Restoration, Monitoring of Riparian Resources – A session that would combine multiple aspects of riparian resource management highlighting what is currently being done (successes and lessons learned), possibly more on lentic areas, some focus on areas of concern such as streambank alteration, etc.
Inventory, Assessment and Monitoring of Springs – Springs and seeps are quickly becoming a focus for many land managers and interest groups.  A session would feature an overview of management issues such as biodiversity and prioritization of activities as well as highlight a number of ongoing inventory, assessment and monitoring efforts.
Ephemeral Systems – People from many parts of the country are eager to learn more about the ephemeral systems they work with.  Session topics could include an explanation of why these areas are generating so much interest, and overview of the variety of ephemeral sites that exist, the most recent efforts at developing guidance on assessment, and others.
Groundwater Ecosystems – A number of topics could be covered such as an introduction to groundwater ecosystems, an explanation and update of Forest Service protocols, groundwater issues and efforts from different geographic areas, and others.
Riparian Ecological Site Description Development – The WRC supports the work led by NRCS in the development of ecological site descriptions for riparian areas; the committee sees the evolution of this effort as a valuable learning opportunity for SRM members.  To this end, the WRC will include updates on the Riparian ESD development process where and when appropriate and will also support/endorse the NRCS sponsored educational activities at SRM annual meetings.
Business
Documents
(Updated:4/14/2015)
2019 – 2010

2009 – 2000

1999 – 1988

2018

Report to BOD
Meeting Notes

2017

Report to BOD
Meeting Notes

2016

Report to BOD
Meeting Notes

2015

2014

2013

2012

2011

2010

2009

2008

2007

2006

2005

2004

2003

2002

2001

2000

1999

1998

1997

1996

1995

1994

1993

1990

1989

1988
Restoration Photos
Bear Creek, Oregon:

A change in timing of grazing from continuous hot season to late winter-early spring allowed the Bear Creek riparian system in central Oregon to recover during the period from 1977 to 2003.

Skull Creek, Oregon:

View of Skull Creek in Oregon before a change in managment.

Close up of head cut on Skull Creek.

Recovery of head cut on Skull Creek after placement of a hardened water crossing and change from summer grazing to a riparian pasture used during early spring or late fall.

Big Meadows, California:
Big Meadows Restoration Project located near Arnold, California was a joint effort by California State Parks and NRCS. The gully was lowering the water table and drying out the meadow in 1999.


In 2000, the gully was removed.

By 2002, vegetation is responding to the restoration of the meadow.