Targeted Grazing Committee
---
Targeted Grazing Committee Home
The Targeted Grazing Committee (TGC) is a self formed committee of practitioners, land managers, research and extension personnel that formed in 2009. The TGC will contribute to the SRM mission which is: to promote the professional development and continuing education of members and the public and the stewardship of rangeland resources.
Since the 2006 publication of "Targeted Grazing: A Natural Approach to Vegetation Management and Landscape Enhancement", the term targeted grazing has been defined as the application of a specific kind of livestock at a determined season, duration, and intensity to accomplish defined vegetation or landscape goals. Examples of these goals include: weed control,  fire risk reduction, and wildlife habitat enhancement.
---
Upcoming events:
The next SRM Targeted Grazing Committee Webinar will be Tuesday August 10, 2021 at 5:00 Pacific, 7:00 Central Time.  We will feature graziers who specialize in vegetation management in solar developments.  No registration required, join us via Zoom:
Topic: Targeting Grazing in Solar Developments
Time: Aug 10, 2021 05:00 PM Pacific Time (US and Canada)
https://oregonstate.zoom.us/j/92025029512?pwd=Y2dPaFBCbmFnQXBqeUYvT2NwMVkr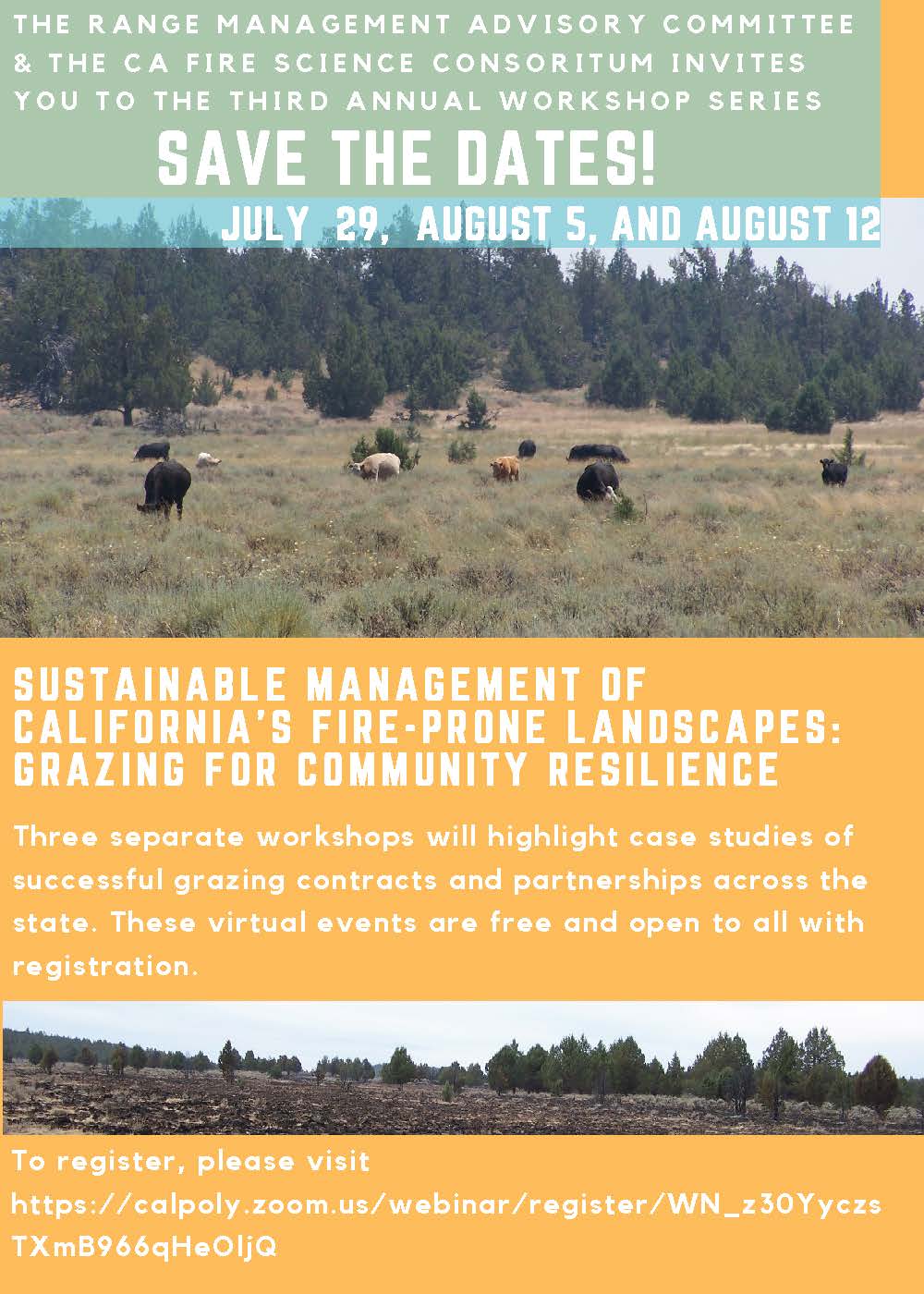 UT09
Password: 189915
Phone Dial-In Information
+1 971 247 1195 US (Portland)
+1 253 215 8782 US (Tacoma)
+1 301 715 8592 US (Washington DC)
The Range Management Advisory Committee and California Fire Science Consortium will be hosting a series of three virtual workshops featuring the sustainable management of California's fire-prone landscapes using targeted grazing.  Webinars will be held on July 29, August 5 and August 12 at 10:00 AM Pacific Time.  These webinars are free and open to anyone.  Please register at: https://calpoly.zoom.us/webinar/register/WN_z30YyczsTXmB966qHeOljQ
---
Recent Events:
Targeted Grazing Webinar with An Peischel
Wednesday, May 26, 5:00 Pacific/ 7:00 Central
Dr. An Peischel of Goats Unlimited will share with us some of her experiences grazing in Hawaii, California, Tennessee and locations in between. Dr. Peischel began her grazing career on the big island of Hawaii in 1985 where she successfully used livestock to build soil on lava fields. In 1991 she was the first in the United States to import Kiko goats from New Zealand. She has worked in many different landscapes and is now considered to be a world-renowned small ruminant expert and a foundational breeder of Kiko goats. Dr. Peischel will share stories and answer your questions about targeted grazing and kiko goats.
To learn more about Dr. Peischel check out her website: https://www.goatsunlimitedkikos.com/
View the webinar recording here.
---
Want to be a featured Targeted Grazier?
The Targeted Grazing Committee will be spotlighting the society's amazing targeted graziers on our social media pages. Please fill out the below survey or invite others to fill in the form to be featured. After the form is submitted, the committee will select a few graziers annually to feature. If you wish to review the post before it is posted please request post review. Pdf copies of the form can be submitted to targetedgrazing@gmail.com, if preferred.
Link to digital form – or – Download pdf copy here
---
The following are key publications often referred to by the Targeted Grazing Committee:
2019 Targeted Grazing Synthesis Paper: Targeted Livestock Grazing: Prescription for Healthy Rangelands By D.K. Bailey, J. C. Mosley, R. E Estell, A. F. Cibils, M. Horney, J. R. Hendrickson, J. W. Walker, K. L. Launchbaugh, and E. A. Burritt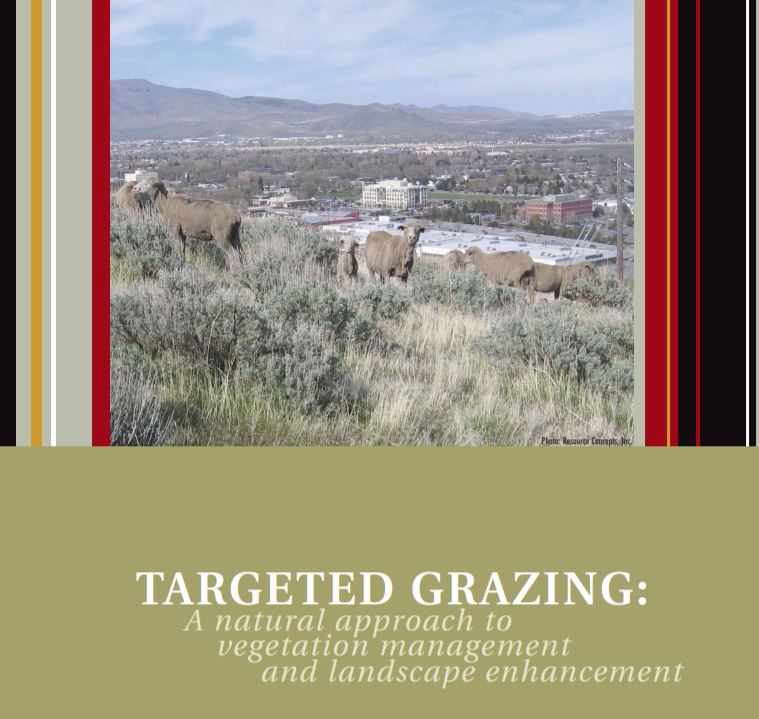 Targeted Grazing: A Natural Approach to Vegetation Management and Landscape Enhancement Edited by Karen L. Launchbaugh, John W. Walker and Ron J. Daines.  This publication is often called the  "The Targeted Grazing Handbook."
---
Click here to subscribe to the Targeted Grazing email list.
In order to ensure emails make it to your inbox please also add targetedgrazing@gmail.com to your address book or safe sender list.
Join us on social media!
Members
Chair: Claudia Ingham, claudia.ingham@oregonstate.edu
Chair-Elect: Kelly Anderson, kelly.anderson@state.mn.us
BoD Representative: John Walker, jwalker@ag.tamu.edu
Past Chairs:
John Hendrickson, john.hendrickson@usda.gov
Beth Reynolds, ejreynol@calpoly.edu
Certification Evaluator: Marc Horney, mhorney@calpoly.edu
(As of 4/2020)
---
Any SRM member who participates in the Targeted Grazing Annual Meeting is considered a member of our committee.  This currently includes practitioners, land managers, research and extension personnel.  Anyone wishing to play a more active role in the committee should contact either the Chair or Chair-Elect.
---
Videos and Presentations
November 5, 10:00-12:00 (Pacific)* – Sustainable Management of California's Fire Prone Landscapes: Using Grazing to Help Keep Communities Safe – Webinar by the California Fire Science Consortium and CalPoly University.
November 12, 10:00-12:00 (Pacific)* -Using Grazing for Fuels Management 101: Practices and strategies:  Webinar by the California Fire Science Consortium and CalPoly University.
November 19, 10:00-12:00 (Pacific)* – Organizing Community-Based Wildland Fuels Management Projects: Approaches and Strategies – Webinar by the California Fire Science Consortium and CalPoly University.
Click here to access recordings of these webinars.
---
Applying Targeted Grazing: The following presentations can be found at:
(https://targetedgrazing.wordpress.com/training/)
1. Grazing for specific objectives—Realistically determining objectives for your targeted grazing program. Beth Reynolds Facilitator – October 8, 2015
2. Livestock and endangered species—What do targeted grazers need to know about endangered species? Rachel Frost & Marc Horney Facilitator—November 12, 2015
3. Livestock and wildlife interactions—Using targeted grazing to develop wildlife habitat. John Hendrickson Facilitator – December 17, 2015
To view the webinar archive click here: https://targetedgrazing.wordpress.com/videos-presentations/.
---
2013 SRM Annual Meeting (Oklahoma) Targeted Grazing Symposium: Management of Livestock Distribution
---
Targeted Grazing Workshop – 2010 SRM Annual Meeting
February 11, 2010
Denver, Colorado
This organized oral discussion focused on the practical application of targeted grazing as a vegetation management tool. The scientific background of targeted grazing has been presented and discussed, but the gap between theory and application needs to be bridged to empower land managers to make use of the emerging tool. The immense diversity of situations to which this tool can be applied necessitates the exchange of real-life experiences to promote learning among practitioners and to inform land managers of the successful programs and potential pitfalls to avoid. The intended audience was land managers, both public and private, and livestock managers and producers. Speakers consisted of several contract graziers with experience in providing land services in a diverse array of situations, from small-scale, highly managed parcels to watershed-scale management projects. Other speakers expounded on grazing on public lands and provided insight on what must be done to make targeted grazing a widely accepted management practice. Finally, we concluded with a speaker panel and audience discussion. Through this event we hoped to lay down the first planks of knowledge from experienced practitioners to bridge the gap between research and the application of targeted grazing as a tool to manage rangelands.
Following are the 2010 Powerpoint Presentations: